THURSDAY 16
12:45 – 14:00
OCAÑA
ARTIFICIAL INTELLIGENCE: OPPORTUNITIES AND CHALLENGES IN JAZZ COMPOSITION AND IMPROVISATION
This panel discussion will present different projects that address the role of artificial intelligence and new technologies in the processes of artistic creation and performance in the field of jazz: Jazz Ex Machina and Jazz as Social Machine.
Jazz Ex Machina is the first project to explore the interaction between instrumentalists and new technologies in a jazz orchestra. The computer becomes a generator of electronic orchestrations and a partner in improvisation, thanks to the integration of devices in both the composition and the improvisations of the soloists in real time.
Jazz as Social Machine is a research project that explores jazz as a social product: without interaction there is no jazz. Good improvisation is the result of a complex social interaction. The improviser pours their learning and background into a solo, and this is acquired individually during their artistic career. Is an algorithm capable of developing such a human and sophisticated technique?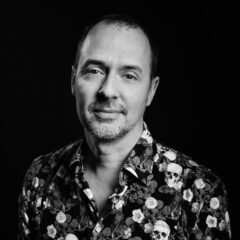 FRÉDÉRIC MAURIN
[ORCHESTRE NATIONAL DE JAZZ, FRANCE]
After graduating as an engineer, Frédéric Maurin devote himself to a musical career, pursuing studies in Paris in both jazz performance and classical composition. From 2005 to 2018, he has composed and conducted the repertoire of Ping Machine, a large ensemble that received numerous awards, was unanimously recognized as a reference on the new European jazz scene and recorded five albums. Frédéric Maurinis also a guitarist in several projects as a sideman. For many years, he has chosen to get involved in order to improve the conditions of diffusion of the music he defends: from 2011 to 2017, he was president of Grands Formats, a federation for large format music that now includes 109 professional orchestras and more than 1300 European musicians. Frédéric Maurin was appointed in July 2018 as artistic director of the Orchestre National de Jazz (France) and inaugurated his project in January 2019. He has created an outward-looking project for the Orchestra with commissioned works and collaborations that explore contemporary performance and invention but also programs for young audiences, a youth orchestra and many other initiatives on artistic and cultural education.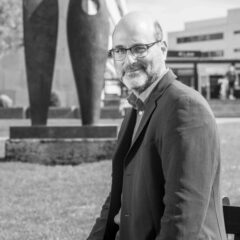 THOMAS IRVINE
[UNIVERSITY OF SOUTHAMPTON, UK]
Tom Irvine is Professor and Head of Music at the University of Southampton and a Fellow of the Alan Turing Institute, where he leads the project Jazz as Social Machine. He is the author of Listening to China: Sound and the Sino-Western Encounter 1770-1839 (University of Chicago Press, 2020) and the co-editor, with Neil Gregor, of Dreams of Germany: Musical Imaginaries from the Concert Hall to the Dance Floor (Berghahn, 2019).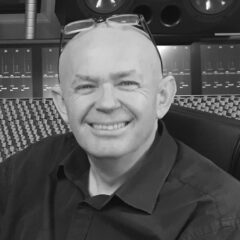 MARK D'INVERNO
[GOLDSMITHS – UNIVERSITY OF LONDON, UK]
Mark d'Inverno holds a BSc in Mathematics, an MSc in Computer Science from Oxford University and a PhD in Artificial Intelligence. He teaches at Goldsmiths, University of London, which is closely linked to the UK's cultural and creative industries. He has written on the relationship between artificial intelligence and the arts, as well as supporting interdisciplinary research and diversity studies in his country.
He combines the facets of researcher and teacher with being a jazz pianist. Over the last four decades he has led several bands, including the Mark d'Inverno Quintet.