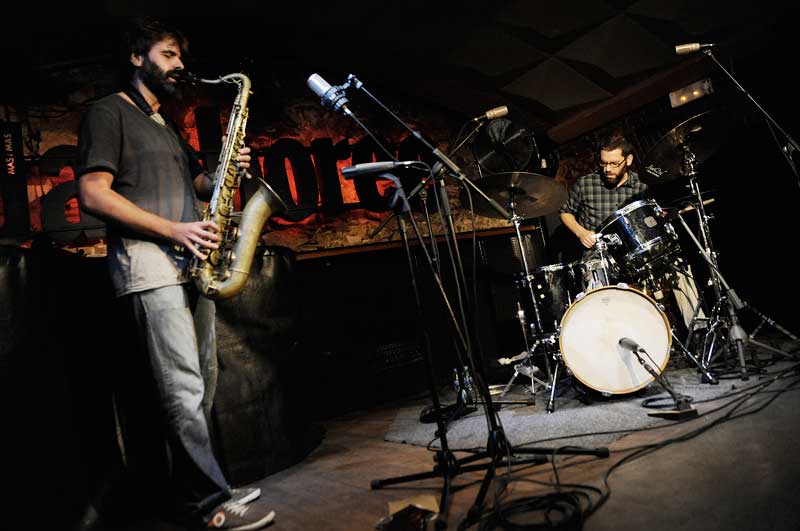 DUOT are Albert Cirera at saxo and Ramon Prats at drums and they are currently one of the most important groups of free jazz and improvised music in the country. Since 2007, when at the last minute they were called to replace the performance of Paal Nielsen-Love at Miró Foundation in Barcelona, they have not stopped travelling, growing and working. With a brave and transgressive proposal, the group continues looking for the limits of its sound, becoming one of the references of the new avant-garde scene.
They have published three albums: Duot (2008), Cactus (2011) and Live at Jamboree (2015), all of them released by the record Repetidor. They have recorded \"Food\" (2017) with the guitarist Andy Moor and they are also part of \"Liquid Trio\", along with pianist Agustí Fernández. Marianne (2016) and Liquid Trio Plays Bernoulli (2017) appear as a fruit of this collaboration.
DUOT has performed in Spain, Belgium, Holland, Portugal, Denmark, Sweden, Italy and Russia. They have shared stage with musicians such as Joe Morris, Tom Chant, Alessandra Patruco, Herman Müntzig, Joachim Badenhorst, Masa Kamaguchi, Hugo Antunes and Alan Wilkinson, among others. In 2010 they participated in the showcase Jazz From Catalonia and in 2012 they were awarded Best New Year\'s Award by the Association of Musicians of Modern Jazz and Music of Catalonia (AMJM).
Albert Cirera (sax)
Ramon Prats (drums)